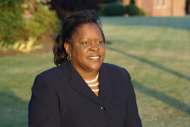 Sharon L. Burton, MBA
"Quality Customer Service"
Rekindling the Art of Service to Customers



Sharon L. Burton is the President/CEO of Quality Solutions by S.l. Burton, LLC, and an adjunct professor at Wilmington University. She received an MBA in Human Resources and an MBA in International Business Operations Management from American Inter- Continental University, as well as a BS in Criminology from Florida State University.

Sharon has been active in the fields of human resources and operations management for over 20 years and her services have been sought by governmental, municipal, healthcare, non-profit, secondary, and post-secondary education organizations. She has worked with several Fortune 500 companies and has built ground-up training and development departments and a quality assurance and compliance department as well.

After listening to the customer horror stories of friends and family members, as well as experiencing many of her own, Sharon decided to write her first book, "Quality Customer Service: Rekindling the Art of Service to Customers."

This groundbreaking book unfolds with a novel-like flow through the lens of seven friends, Dollar, Stu, Meaty, Shopper, Peachie, Medic and BATS, who represent key industries.

The book provides a well illustrated range of customer service case studies, an augmented understanding of internal and external customer service, and ways to implement diversity in customer service.

It reveals the latest communication methods to bridge the customer service gap between the generations (Matures, Baby Boomers, Generation X, Generation Y.) Includes motivational quotes in each chapter, thought provoking questions, plus pages for notes.

"Quality Customer Service" is geared for entrepreneurial programs, workforce development programs, vocational and business programs as well as for individuals desiring to enhance their own personal skills.

By combining education with entertainment, Sharon L. Burton has successfully created a customer service guide that effectively explains the basics of maintaining quality customer service in any type of environment.

"What an excellent and timely topic," says one reader. "Quality service seems to be a lost art at times. However, it can be the very factor that sets a business or organization from being good to being the best. This is required reading for all leaders."

For more information about "Quality Customer Service," contact Sharon at Quality Solutions by S.L. Burton, PO Box 7457, Wilmington, DE 19803. Sharon is also available for seminars and book signings and you can e-mail her at mailto:qualitysolutions@verizon.net. More info can be found on the web at http://www.slburton.com.