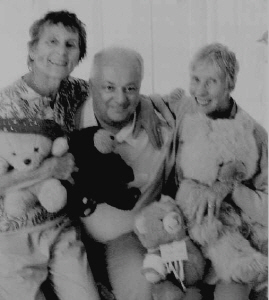 Olive Evans
Pat Woolley
Jim Furmston

It all began the day Olive Evans was diagnosed with breast cancer. After getting over the initial shock, Olive realized she needed something to keep her mind busy. "I was looking for a challenge to take my mind off what was to be a difficult period. My husband suggested I write a poem about each one of the many bears I had rescued from thrift stores over the years."

After Olive thought about it for a few days, she picked three of the 42 bears that lived in the small front room they called the "bear room" and sat them on a dressing table. With pen and pencil, she began to write. Most of the initial stuff wound up in the waste basket."To my surprise, poems eventually began to take shape. I showed them to my friend Gill and she persuaded me to show them to Pat Woolley, a local artist who loves teddy bears. I even took them to a weekly support group. Everyone there enjoyed the poems, telling me they brought out the child in them."

Around the same time, Olive spoke with Jim Furmston, a very good friend who was a professional musician and composer. He suggested she record the poems in his studio. Jim liked the poems so much he composed and recorded music that matched each bear's personality. Now all the pieces were in place to print "The Thrift Store Bears."

"The Thrift Store Bears" recounts the adventures and friendships shared by a group of orphaned thrift store bears now residing in an old house by the sea. There are 27 individualized personalities, from Danny the Very Shy Bear: "I'm frightened of the dark, dogs scare me when they bark, I wish I were a shark," to Happy H. Huggins, "Are you feeling unwanted and misunderstood? Are you feeling down in the dumps? Are there clouds in the sky that won't go away? Does your oatmeal have too many lumps?"

Olive Evans was born and raised in England. She attended Goldsmiths College at London University and received her teaching credentials. After having three sons with her husband, David, the family moved to Manhattan Beach, California in 1968. Evans taught children with special needs at a private school for 10 years before starting her own business. She drove to schools around Los Angeles, turning stories she wrote into plays and calling herself "the Fairytale Godmother."

Olive credits the publication of her book as instrumental in her cancer recovery. "If I hadn't had cancer, the book would have never happened. It shows that even when you have this illness, there are ways of coping. I feel blessed that I have been lucky enough to survive. These days, Olive is known as the "Teddy Bear Lady."

Pat Woolley's expressive, glorious drawings highlight Olive's witty teddy bear odes. Jazz and classical musician, Jim Furmston's enchanting CD accompaniment is delightful and tempoed to each bear's poem.

Writers Digest has said, "This is a fantastic book. Teddy bear collectors should love it. The narration is perfect, illustrations are colorful and the music beautifully fits the poems. Each bear comes to life."

Bookwire Review has said, "Olive Evans had created a fascinating book. The sketches are absolutely fabulous, and the music is very harmonious with characterization and appealing chic."

To order a copy of "The Thrift Store Bears," visit http://www.teddytraveler.com or write to Teddy Traveler Co., PO Box 3223, Manhattan Beach, CA 90266. For more information, wholesale details, or to request an interview, please call 310-217-7600.