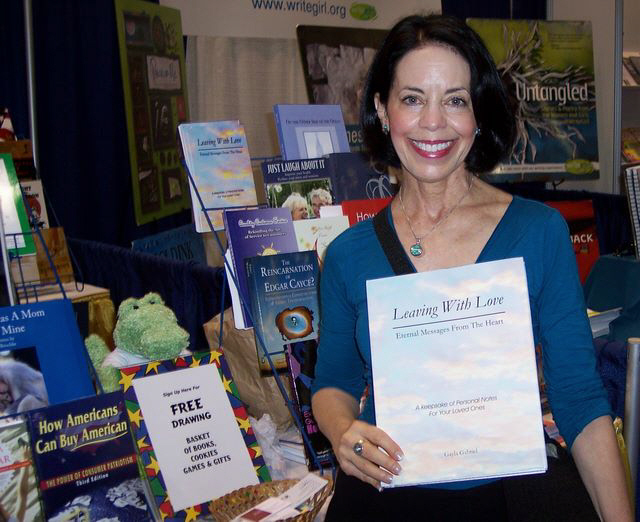 Gayla Gabriel
"Leaving With Love"
Eternal Messages From the Heart



Gayla Gabriel has been an educator in the field of special education for more than twenty years. Over the years she has been involved in many educational and spiritual workshops.

In the 1980's she studied with John Grinder and became a Neurolinguistic Practitioner. Gayla is a graduate of the American Society of Alternative Therapists.

After attending a number of seminars on death, dying and grief, Gayla was drawn to a series of workshops called, "Opening to Life" by Frank Ostaseski, Founding Director of both the Zen Hospice Project and the Metta Institute located in Northern California.

Currently, she uses her expertise as teacher and counselor to assist grievers as a Grief Recovery Specialist trained and certified by the Grief Recovery Institute, founded by John James and Russell Friedman.

Gayla also enjoys yoga, breath work, meditation, dance, NIA, hiking, and studying Kabbalah. She credits these with enriching her life.

Recently, Gayla made the transition from full time teaching to follow her vision for completing her first book, "Leaving with Love: Eternal Messages From the Heart."

This unusual book transforms itself into a precious keepsake that will hold your special messages for your loved ones and friends when you pass over.

You have many choices on how to personalize and create this wonderful remembrance. You can take as long as you want to complete the exercises in the book. There is no specific order as well. One of the unique features of this book is that it contains envelopes for storing and keeping safe the personal letters or messages that you write.

You can decorate the book any way you see fit, add photos, discard the dust cover, find a colorful ribbon to tie the keepsake closed, or use your imagination to make "Leaving with Love" a very personalized gift for those you love.

Chapters include Gratitude, Appreciation, What Do I Treasure? Gifts from the Heart, Forgiveness and Forgiving, Revelations, Regrets, My Favorite Books, My Eulogy, and much more.

To find out more information on "Leaving with Love," write to Gayla Gabriel at Sparks of Life Publishing, 4316 Rousseau Lane, Palos Verdes Peninsula, CA 90274, or visit her web site at http://www.leavingwithlove.com.