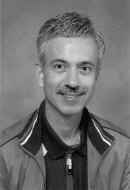 Gurdip Hari
"Mental, Physical And Spiritual Health"

There are some people who, when they enter a room you can feel a certain positive vibration. Gurdip Hari is one of these people. He has a special aura and when you speak with him, he imparts wisdom that makes you think about the real aspects of our existence on this planet.

Gurdip's personal mission has been to help increase awareness of how important it is to be healthy to succeed in every area of your life. He says, "Health is the biggest wealth and is the beginning and end of that road which leads to success, happiness and peace on earth."

In 2001, he ventured into semi-retirement from a computer business to carry on the humanitarian work of his Father, who had recently passed away. He discovered that Health was the biggest problem mankind was facing.

In order to find a solution, he began working on his own health and made an in-depth study of the ancient scriptures of the Far East, the Middle East and the West. He was determined to find the Key that would open the doors to good health.

As he began applying the ancient wisdom along with modern day realities, he started to see a vast change happening within himself. Not only did he stop ageing and return back to youth, he has not fallen sick, been to a doctor, or taken any medications since he embarked on this unusual journey.

Once he personally succeeded and became healthy, he wrote his brand new book, "Mental, Physical and Spiritual Health" so that he could share the timeless wisdom of the universe with all mankind in order for everyone to benefit. After three years of work, the book has been released this year, and in it, he clearly outlines that good health is a birthright of every human being. In today's world, most of us accept sickness, disease and related sufferings as a normal part of life.

Gurdip further reaffirms that Mind is the driver, the Body the vehicle and Spirit is the Real You. When you understand these facts, you will truly gain freedom from ill health and begin to enjoy the wonders of life and success in every field as you become Mentally, Physically and Spiritually fit.

When asked what is the greatest hindrance to our progress and success in life, Gurdip answers "It is our attitude. We lay more emphasis on the external at the cost of the internal. There is infinite joy within us but we seek it outside. There is infinite knowledge within us but we seek it outside. There is infinite power within us to make all our dreams and goals a
reality, but we seek it outside. The power lies within us and we have been provided with all the resources and tools necessary to be in an optimum state of health. It is all about our attitude and the image you hold in your perception."


John Harricharan, the award winning author, says, "Mental, Physical and Spiritual Health" is a truly amazing and powerful book as it reveals some great secrets about the human body." Dr. Carlos Manlapaz states, "This book reveals the greatest secret ever revealed on how to align your mind, body and spirit and will usher not only personal success, but also lead to world peace and the healing of our planet." Famous author and poet Rolando Carbonell says, "This book deserves a Pulitzer Prize for its extensive benefit to entire mankind."

Gurdip Hari practices what he preaches. He has set up educational institutes in Africa to provide free education to under-privileged children.

He is also a dynamic speaker and shares the wisdom that comes his way with the world through his lectures, monthly newsletters and fascinating and informative website, www.Humanityandlove.com.

Gurdip is gradually becoming America's new voice on Mind and Natural Health. You can order any of his books at Amazon.com or from the website mentioned above as well as at another of his web sites http://www.JasminPublishing.com Wholesalers, please send an e-mail to gurdip@humanityandlove.com for quantity orders.