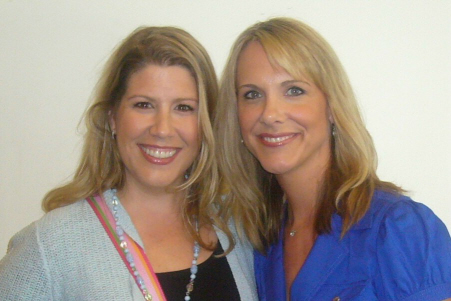 Cherie McIntosh and
Deena Cook
"Pinky and Peanut"
Children's Books
Former teachers Cherie McIntosh and Deena Cook have used their vivid imagination to transform themselves into author-publishers of a brand new line of award-winning children's books based on the characters they created called Pinky and Peanut. These characters actually derived from nicknames they called their own children.

"We both wrote an equal amount and the ideas kept flowing," relates Deena.

"We see kids growing up too fast." noted Cherie, "we wanted to provide interesting, confirming, reinforcing stories and characters that kids could easily relate to."

The story behind these delightful books gets even more interesting as one of Deena's former students did the wonderful illustrations. Trina Scruggs Sullivan was just about ready to give up on her artistic passion when good fortune reunited the threesome to put together the project.

The first book, "Pinky and Peanut: The Adventure Begins," and the second one, "Pinky and Peanut: Trouble Times Two" have already been published, with a third volume, "Pinky and Peanut: No Boys Allowed" in the works for this fall.


Cherie McIntosh is a graduate of Purdue University with a degree in Early Childhood Education. She has a Master's Degree from City University. Along with her passion for writing, Cherie taught kindergarten and second grade for 13 years. She resides in Renton, Washington with her husband and two children.

Deena Cook is a graduate of Washington State University with a B.A. in Elementary Education. She also has a Master's Degree in Educational Technology from City University. She began to develop her publishing ideas and content for these books as a second grade teacher at St. Louise Elementary School.

When the first books debuted, they quickly sold over 2000 units and steady sales have followed each month. Retail prices are only $4.95 for each title and they offer great value for the money, plus the book size makes it easy for children to carry with them on trips or to events. The first title, "Pinky and Peanut: The Adventure Begins" won a Pinnacle Book Achievement Award in the category of Children's Interest in 2009. It has also been featured on local television in Seattle, Washington, and you can even view clips of the authors on YouTube and their colorful website, www.pinkyandpeanut.com.


Here's what people are saying about "Pinky and Peanut"....

"As a current second grade teacher, I have seen first-hand my students' love for this series. The size of this "skinny chapter book" is just right for second grade readers. The story line is easy for them to follow and to relate to. I am looking forward to book number 3!" says Danielle Perkins.

"This is a realistic, engaging story written with humor and insight," says St. Louise School librarian, Mary Carson. "The books touch on friendship, sibling rivalry, pets and school experiences. Copies of these books are always being checked out."

"This was the perfect read-aloud book for my four year old daughter and has been a huge hit as a gift for friends a bit older. The characters have real conversations and emotions for 2nd graders. I highly recommend this series!" says A. Miller.

For more info on ordering, visit Cherie and Deena's website at http://www.pinkyandpeanut.com Dealer inquiries are invited.