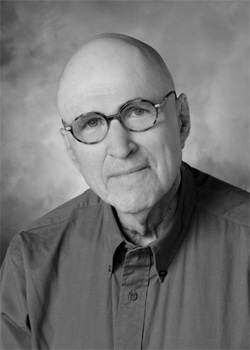 Bernard Schatz, PT
Author of
"Chronic Pain Self-Treatment
Including Carpal
Tunnel Syndrome"

Bernard Schatz, a trained Physical Therapist, is a man on a mission. He alleviates pain and accomplishes this miraculous feat without the use of drugs. Since 1950, Bernard has studied and treated all forms of chronic pain. His patients come from all walks of life and they have received much relief thanks to Bernard's innovative approach.

He began work at the Institute of Medical Research, Cedars of Lebanon Hospital in Los Angeles where he discovered that the primary cause of chronic pain is contracted tissues that press on nerves. If the contracted tissues occur in the neck and scalp, they are called migraines. If contracted tissues occur in the hand and arm, they are called carpel tunnel syndrome. And, if they occur throughout the body, the term fibromyalgia is used. Chronic pain is one condition with many different names.

Over the years Bernard has developed The Schatz Technique™ an approach that normalizes contracted tissues. They then become healthy and free of pain. He used the technique with his patients and is now revealing it to the world in his brand new book, "Chronic Pain Self-Treatment Including Carpel Tunnel Syndrome."

The Schatz Technique involves soft tissue manipulation that you can do yourself or with a friend and it can relieve all kinds of ailments such as arthritis, back pain, bursitis, neck pain, fibromyaglia and more.

Patch Adams, MD had this say, "It has been a thrill to get to know Bernard Schatz. I quickly referred a patient to him crippled by chronic pain. He made a long house call and they reported remarkable changes. He has developed his own system to address pain. Give him your attention."

In "Chronic Pain Self-Treatment" you will easily learn how to apply The Schatz Technique on yourself or others. Easy to follow instructions are followed by many examples of case histories of various different ailments that have become better or completely reversed with this method. You will discover the origins of chronic pain and how many people are affected by it. You will find out how the medical establishment treats it with a wide range of drugs that wind up causing more serious health problems if taken on a continuous basis.

Here's what people are saying about this life-changing book,

From Alan Robbins: "Five years ago I felt like I was falling apart. I was getting more immobile and my entire body from head to toe was tight, stiff, and sore. Luckily, I discovered "Chronic Pain Self-Treatment" and thanks to the techniques in the book, I can run, play on the floor with my kids and am no longer sore. I am 45 years old and feel as good I did in college."

From Cindy Renfroe: "I bought this book thinking it was just another massage technique book, but instead found a wealth of even more useful information. The book is about soft tissue manipulation and I have eliminated my own constant knee and shoulder pain and have used it on some of my reflexology clients as well. It is a must have for those who want to help themselves and others."

To order your copy or to get wholesale information, contact Bernard Schatz at his website http://www.reverseyourpain.com. You can also order a copy online at Amazon.com.