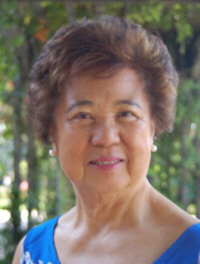 Cynthia Waiying Wu Wilcox
Author of
"The Love of Lotus"



In the author's own words...

I started writing "The Love of Lotus" because my son asked how I grew up in China. He said he had no idea and could not imagine it. So I decided to write and describe it for him. Since it is my story for my son, it had to be true and honest, otherwise it would miss the point. I wrote it from the point of view of my intellectual development because that is what forms a person--his character, his philosophy, his whole personality.

I started out with an ancient 10th Century Chinese classical education in elementary school in colonial Hong Kong; moved on to semi-modern 19th Century Christian missionary education in China for high school, then received a modern 20th Century scientific, college and graduate school education in America. My language and education seemed to have leaped from century to century, and my physical environment changed drastically as well.

The reason why I called my book, "The Love of Lotus" is that it is the title of a well known essay written in the 11th century by Chou Dunyi. It happened to be the first lesson whose meaning I understood. The essay gave the reasons why Chou loved the lotus flower. He stated that the flower was "growing out of the mud and not being sullied, cleansing itself in the clear water and not being proud. Its stems are hollow inside and straight outside, lofty and unbranching.

The fragrance spreads wide--the farther, the more delicate. I understood that these were the desirable human characteristics that I should emulate: that I should not let the outside world sully my character, that I should be honest and straight forward, not proud. The lesson started my self-awareness and guided my life and my story.


"The Love of Lotus" reveals many aspects of traditional family life in southern China, such as the arranged marriage of Cynthia's parents, and the tension between such traditions and the freedoms of American life.

When Hong Kong fell to the Japanese in 1941, the family's business was confiscated. The children and their mother escaped to free China, where the author's education was continued in Christian missionary schools. After the war, and prior to the Communist takeover, the author completed high school in southern China and then traveled to the United States for college. Speaking virtually no English, she was confronted with a society vastly different from the one she had known.

Marriage was the most difficult conflict and the last resolved. Her family expected her to marry a prominent Chinese man, but because she did not want to become a submissive, traditional Chinese wife, she chose instead to marry a Caucasian-American and suffered greatly when her mother disowned her, even though this was the action she expected.
Here is what readers have said about this fascinating story of a young woman's search for faith, purpose, identity, independence and happiness:

"Such vivid descriptions of past and war days in Hong Kong and China..and such vivid explanations of Chinese culture."

"A must-read for those who are desirous of learning more about the traditional Confucian way of life in old China and the immense conflict that one might encounter when the East meets the West!"

You will thoroughly enjoy the wrenching emotions and engaging details of this dramatic and moving work. It is a must read for anyone interested in the Chinese classics, Christianity, Communism, Chinese culture and the American concept of happiness.

You can purchase a copy of "The Love of Lotus" on the web at http://www.tydehousebooks.com. For wholesale or dealer info, contact Baker and Taylor or the publisher at Tyde House Books, 600 Allerton Street, #200, Redwood City, CA 94063, 650-619-7963.