Adventure

Animals and Pets

Art

Audiobooks

Autobiography

Bilingual Adult

Anthology
Body Mind Spirit

Biography

Business

Childrens Interest

Bilingual Childrens

Children's Christian
Cookbook
Diet
Christian

Economics

Educational

Environmental

Fantasy

Fiction

General Interest
Gift Book

Games & Puzzles

Health

US History

World History

Home and Garden

Crafts and Hobbies
Horror

How-To

Humor

Inspirational

Juvenile Fiction

Literary Fiction

Memoir
Men's Interest

Military

Mystery

New Age

Non Fiction

News

Novel Novella

Multicultural
Parenting and Family

Photography

Poetry

Reference Religion

Romance

Sales

Self Help

Relationships
Short Stories

Science

Science Fiction

Science Fantasy

Spiritual

Sports

Thriller

Travel

Teen
Western

Women's Interest

Writing

Young Adult
Please note: If your book does not fit into any of the above categories, you can suggest one category
to place it in for the Pinnacle Awards. We are adding new categories in each award cycle.


Special Extra Bonus:
Select Two Extra Categories or create one or two of your own ($100.00 Value)
at no additional charge if we receive your entry form by
July 15th, 2019
Just type in the categories separated by a comma in the Category Section
Each year, for the past 35 years, NABE,
The National Association of Book Entrepreneurs
has honored some of the finest books published by our members.
Our Members include a wide variety of Publishing Houses, Small Presses,
Independent Publishers, Print on Demand Titles, and Self Publishers.
We believe all books should be recognized for the Pinnacle Awards based on
book content, quality, writing style, presentation and cover design.
Award Winners receive:
Honor and Mention in an upcoming issue of
our bookselling magazine, "Book Dealers World"

A Special Pinnacle Award Winners Web Page on our site
Press Releases announcing the Awards all over the web with links to
our Award Winners Web Page
Winners can publicize their awards with Stickers on their books
and on their website as well as with beautiful Certificates
Winners also get Special Discounts on a Host of Marketing Vehicles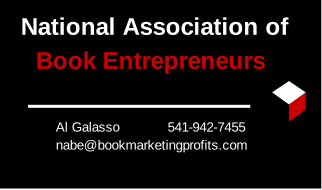 Unlike other associations, your Membership entitles you to submit
Your First Book for just the Membership Fee
and your Membership is valid for Two Full Years. During your Membership
you can submit additional books for the awards for only $50.00 each.
Here Are Some of NABE's Many Great Benefits for Publishers:
Master List of Book Distributors of small press and
independently published titles.

Al Galasso's Private Black Book of Business Contacts packed with
great people to do
business with, from Al's own personal rolodex.
Valuable sources for many of your bookselling needs.
Free Classified Ad in Book Dealers World, which reaches
thousands of book buyers.
Free Testimonial for your book that you can use for your
next printing, or in sales materials.

Special Savings on NABE Book Showcase Exhibits, Publishers Preview,
National Press Release Bulletin, Promotion Express, and more.


"Public Speaking Superstar" Free E-Book that shows you how to
promote your book through speaking engagements.
Special 50% Discount Off Advertising Rates in
Publishers Weekly and learn how to submit books for pre-publication reviews

.


Top Spots for one full year in the
New Books From Independent Publishers Directory
"Holiday Bookselling Secrets" Free E-Book that reveals how to promote your book
as a holiday gift all year long.

Plus much more!
Just Fill Out This Form And Sign Up Today